Problems
The major problem
Private corporations rely on paper and other out of date methods to keep track of stock transactions. StockTreasury offers a state-of-the-art alternative: a blockchain enhanced immutable digital platform for easy and secure stock record management. With StockTreasury, stocks are kept more securely than paper and spreadsheets ever could.
Paper documents
Cumbersome and time-consuming procedures. Expensive to administer. Redundant paperwork that can be misplaced. Prone to human errors.
Capital
Difficult to issue shares. Hard to involve new shareholders with capital or fresh ideas.
Administration cost
Share transfers are costly and time-consuming. Records are unreliable. Ownership records are opaque and inaccessible. Due diligence costs too much.
How it works
What is StockTreasury?
StockTreasury is the command center of corporate shares. It offers complete control over transactions and associated communications. StockTreasury sets a new benchmark - it guarantees absolute accuracy, and unchangeability of ownership records.
HOW DOES IT WORK?
StockTreasury takes digital record keeping to a new level of control and speed. Enjoy the benefits of direct stock management. Issue, receive, transfer and monitor shares online. 24/7/365.
Easy to use
Secure login. Seamless share transfers. Quantum-proof digital signature.
Single source of truth for the relying parties
Each and every stock transaction is secured by quantum-proof KSI® blockchain.
Seamless share transfer
Easy to understand interface.
Solution
The StockTreasury solution
StockTreasury combines the traditional and robust database architecture with a cutting edge, quantum-proof KSI® blockchain technology.
KSI® Blockchain
Ownership record and share transfers secured by KSI® blockchain
Powerful Digital Identification
Authentication is based on public key infrastructure, containing elliptic curve cryptography
P2P Service
All transfers made are peer-to-peer, directly between shareholders with no third party service providers
E-voting
End-to-end services for shareholder to corporation interaction
Solution
Sneak peek
Just a little glimpse of what's inside.
The quick onboarding process for the corporation and a new shareholder lets you concentrate on what's most important — your business.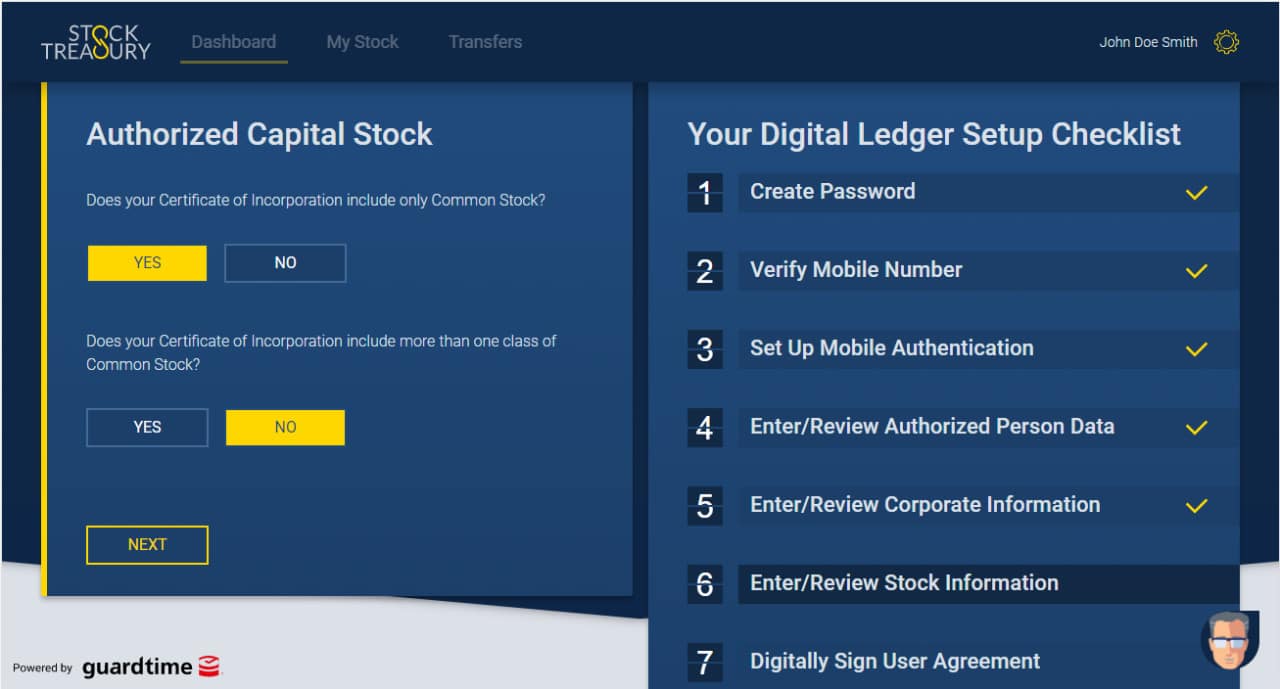 We believe less is more. Our dashboard only has the most necessary information and notifications.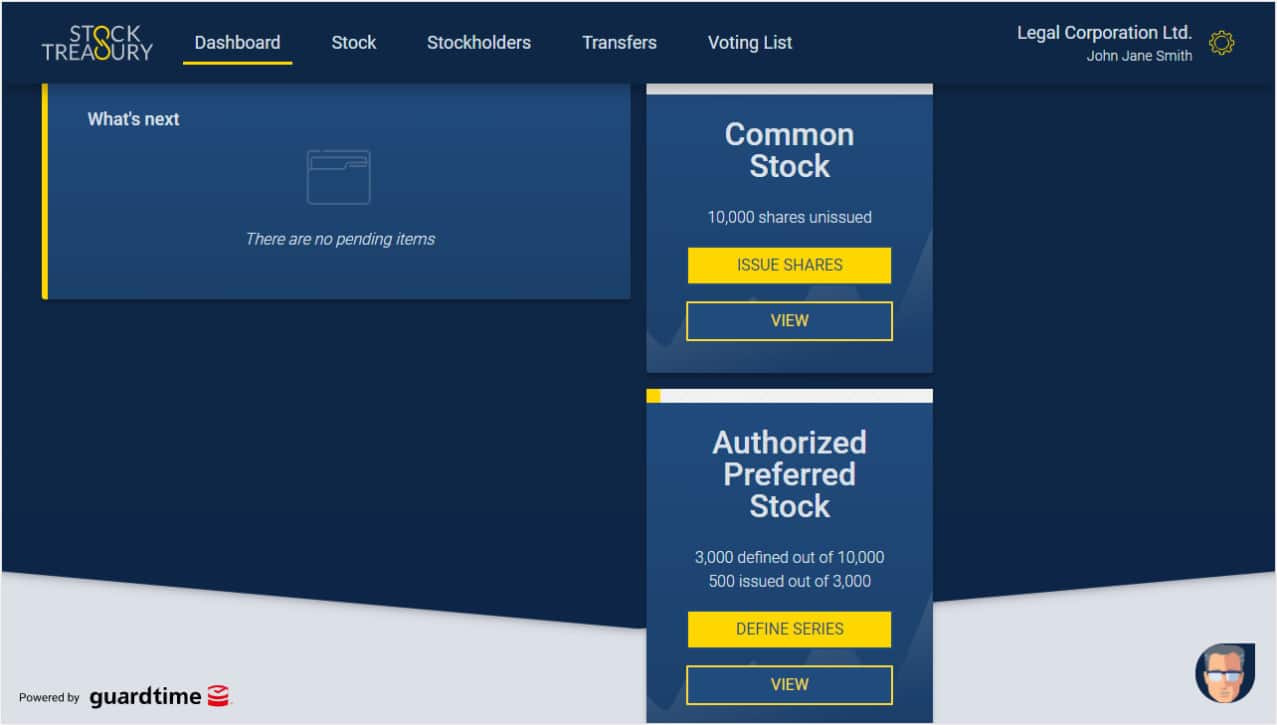 Yes, transfers can be easy. Fill in a short form, sign it digitally using the mobile app, and, voilà - done!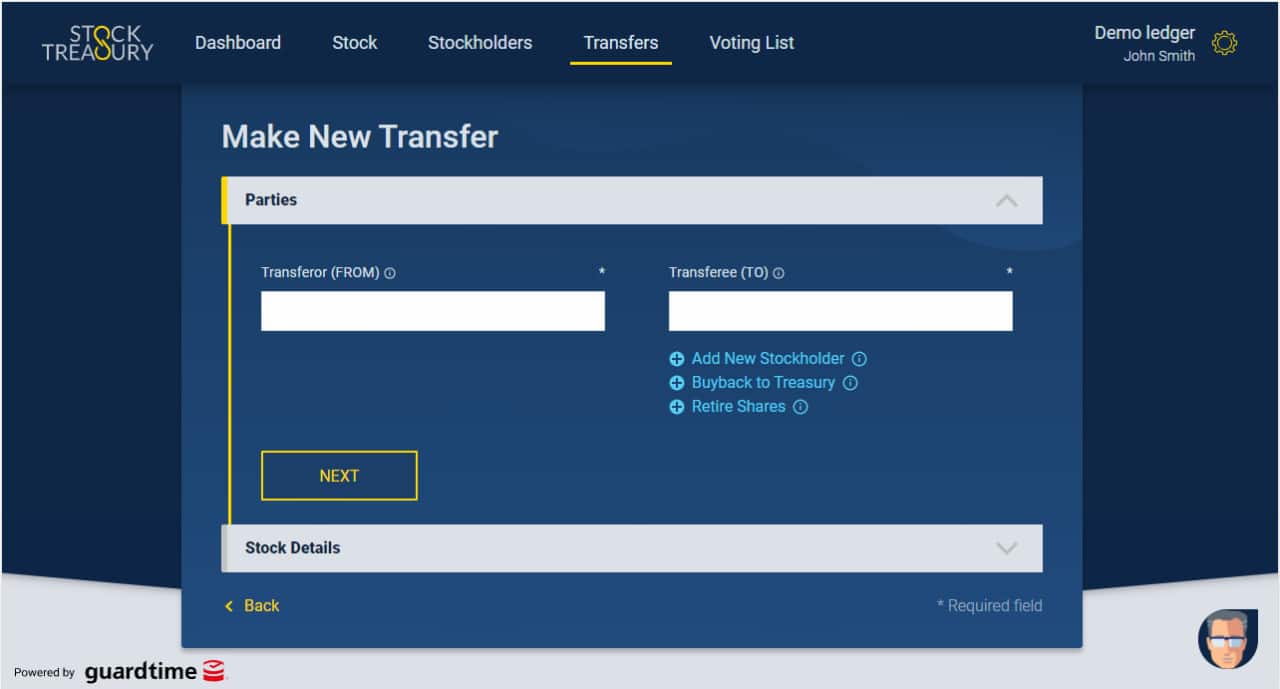 Share transfer was easy? Receiving is even easier. Just confirm that you accept the share terms stipulated in the transfer form and sign it digitally. That share is now yours.
Features
Benefits
StockTreasury is a fully digital stock ledger, compliant with Delaware laws and regulations. StockTreasury is a revolution through evolution that combines the past, present and future. The past: reliable cryptography that has stood the test of time. The present: the opportunities that the internet has provided through direct peer-to-peer communication. The future? The next generation KSI® blockchain, quantum-proof to protect your shares.
Convenient
StockTreasury is available 24/7/365.
Secure
Reliable cryptography, quantum-proof KSI® blockchain.
Easy-to-use
Intuitive and user friendly.
Instant share transfer
Transfer shares instantly, 24/7, even on Sundays, or on public holidays.
Signing APP
Free StockTreasury PrimeSigner
StockTreasury user access is granted through a mobile app called PrimeSigner. PrimeSigner has been built to meet the high security standards set for StockTreasury. PrimeSigner authenticates StockTreasury users via biometrics with data stored securely on their mobile device.
IOS and Android APP
PrimeSigner provides StockTreasury's digital signature capability. Once a user has been identified through PrimeSigner, all important actions (e.g share issuances, share transfers etc.) are digitally signed in a unique digital exchange between StockTreasury and PrimeSigner. All digital signatures are based on public-key cryptography using the algebraic structure of elliptic curves. This guarantees non-repudiation of all important user actions taken in the StockTreasury ecosystem. In fact, StockTreasury, in conjunction with PrimeSigner, forms a whole new level of trust for all parties.
Learn more
Authentication based on biometrics

Public-key cryptography based on elliptic-curve cryptography

Private keys are stored in the most secure way allowed by the user device (Titan M, Secure Enclave, or TrustZone)
App Store
Play Store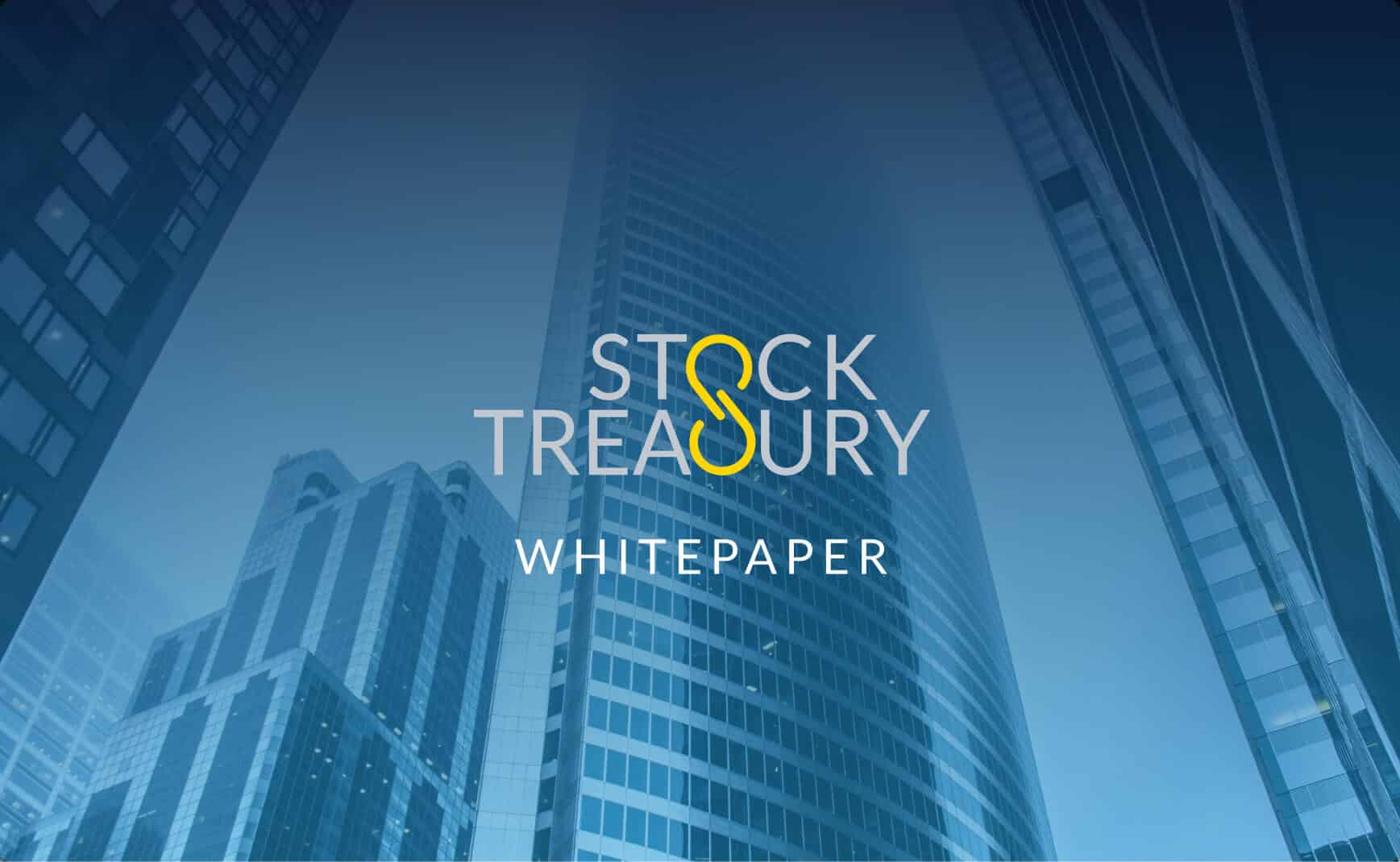 The whitepaper provides an in-depth look at the problem we are solving, as well as technology behind StockTreasury.
Take a look if you care to see what's under the hood.
Watch video
OUR PARTNER
OUR DELAWARE PARTNER
Need a Delaware registered agent? We recommend Harvard Business Services
Contact us
Get in touch
Reach out to us and we'll get back to your shortly.